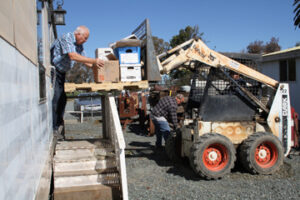 Thousands of documents, photographs, books, maps, binders, genealogical histories, newspapers and other memorabilia that members of ECCHS has collected over the last 46 years to preserve our local history are moving to the new Resource Center that will be dedicated during Opening Day on April 1st.
Historian Kathy Leighton and her dedicated Monday night crew (which includes Maggie Northcut, Roseanne Yanes, Que Sala, Steve Verduzco,and Doreen Forlow) have been sorting, boxing, cataloging, and readying all of the memorabilia that has been housed in a small trailer since 1999.
Fifteen years in planning and fundraising efforts have made this building possible, but it would not have taken physical form without the dedicated group of 'Breakers' who undertook the task of much of the construction, saving $50,000 in labor costs.  This dedicated group include Construction Superintendent Kathy Bushman (who "beat the bushes" for the lowest bids on material and outside labor), the Construction Manager Norm Ruddick who supervised volunteers including Clyde Allen, John Bushman, Bob Byer, Dave Donaldson, Chuck Hunter, Tim Karlberg, Mar Knittel, Dennis Nunn, Loren Robinson, Joe Senn, Tom Snyder, Bruce Watkins and others.
East Contra Costa Historical Society would like to thank the following local businesses who have contributed to the construction of the Resource Center through good neighbor preferred pricing so that the building could be completed with the funds ECCHS had available:
Wayne Swisher Cement Contractor (Brett, Brian, and Wayne Swisher)
Pickell Roofing & Gutters
ICR Electrical Contractors
Fairview Heating & Air Conditioning
Slakey Brothers (Clint Colburn, Regional Manager)
Scheer Security
North Coast Packaged Homes
Roland Painting & Design
Superior Clean & Seal
Wheat Land Surveying
GeoEngineering Consultants
Stirling Architects, Inc.
Advanced Engineering
Please show these generous business concerns our gratitude by patronizing them if you are involved in a project that requires their products or expertise.  In addition, Solta Medical, located in Pleasanton, very generously donated office furniture, filing cabinets, stationery supplies and other items that will furnish the Resource Center.
The new Resource Center will be the repository of fifteen or more file cabinets containing the histories of Bethel Island, Brentwood, Byron, Discovery Bay, Knightsen and Oakley, plus information on Contra Costa County and beyond.  Included in the file cabinets will be 450 family files with information on many of the pioneer and prominent families of East County.  In addition, fire-proof filing cabinets will house more than 20,000 photographs, original court documents and other valuable historical items (including a journal written by Charles Marsh, son of John Marsh).
There are over 35 archival boxes containing newspapers dating back to the early 1900s and over 50 maps of importance to the East County area.  Book shelves have been erected to hold the Liberty Union High School yearbooks (from 1902 to the present) and several local elementary school annuals.  Scrapbooks donated by several organizations and individuals are available for researchers.  Binders containing histories of local fraternal clubs, libraries, law enforcement, doctors and hospitals, schools, churches, fire departments and other subjects will fill several of the shelves, not to mention over 350 hard-bound and paper-back books on the history of this area, on Native Americans, on Contra Costa County and many books authored by local citizens.
East Contra Costa Historical Society is proud of the rich history of our area and welcomes community members to visit the Resource Center for a first-hand look at the myriad of information supporting research on our area from 1850 to the present time.  Resources of the ECCHS have provided information to high school and college students, news reporters, genealogy researchers, and even State of California consultants.  Our collection of photographs have provided wall decorations for the John Muir Medical Center, Trader Joe's, Brentwood Café and other commercial establishments as well as for publications such as Welcome Guide to Brentwood.